Modern Wedding Invitations for Fun Couples
Your wedding day's first impression to your guests is with your save the date cards or wedding invitations. These small pieces of paper may seem insignificant, but set the tone of your wedding day and can beautifully show off your personality if designed well. Alexis Scott Designs offers a range of bespoke wedding invitations with extra special details like letterpress and foil printing, deckled (torn) edge paper, silk ribbon, vintage postage, and more.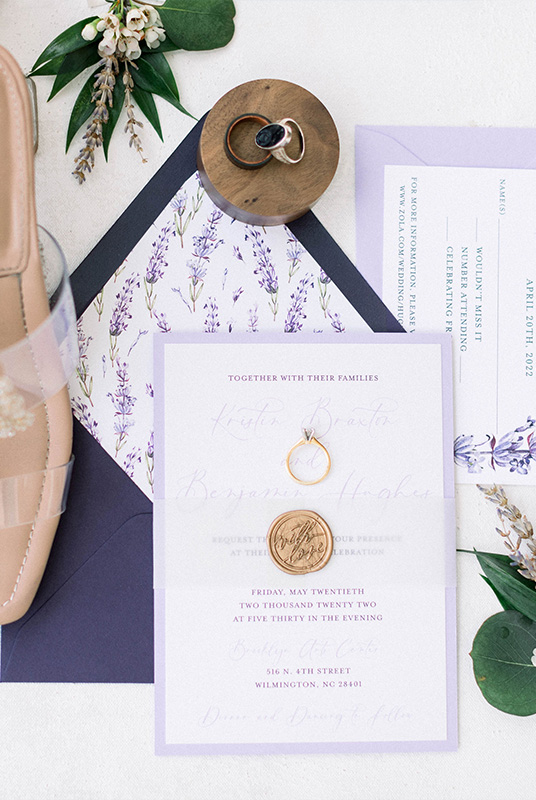 Your love story is too special for templated invitations
While it might seem easier in the moment, trying to choose the perfect templated wedding invitation to add your details to will just end in frustration and dissatisfaction. So why spend your valuable time trying? All of our invitations and wedding suites at Alexis Scott Designs are bespoke—designed just for you based on your wedding vision and expertly crafted by our professional designers. No matter whether your taste is typography-forward and minimalist or traditional and romantic, your wedding invitations will be pixel-perfect and printed on only the finest paper samples we can find.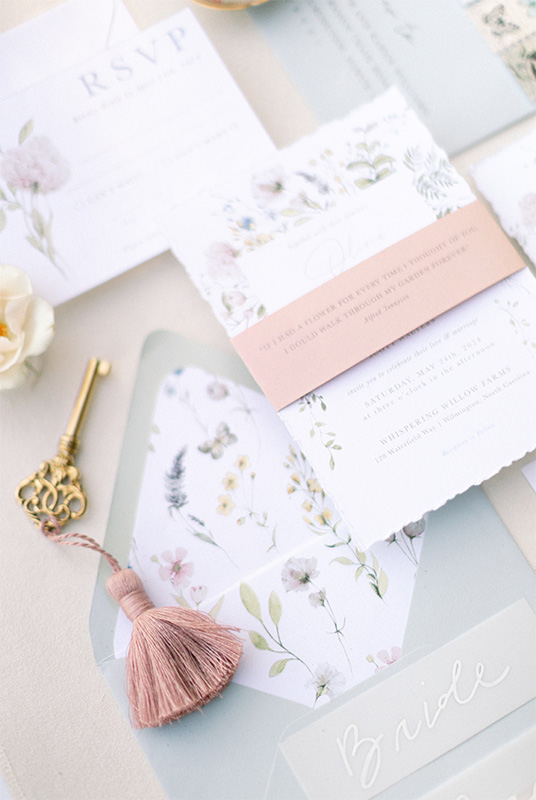 Fully bespoke

wedding stationery

The best part about completely custom wedding invitations is that they're made especially for you based on the invitations of your dreams (and those invites you've had saved on your Pinterest since before you even got engaged). The worst part? It's difficult to give you an estimate until we know exactly what you're looking for. As a general figure, our invitation suites range from $7 to $16+ per suite, with most of our clients in the $12 range.

Our packages can include everything from just the design and printing of your invitations, to addressed envelopes with printed names, postage, and an envelope liner with silk ribbon and a custom wax seal. Your imagination is truly the limit for your invitations, and we love delivering a design that perfectly matches your aesthetic!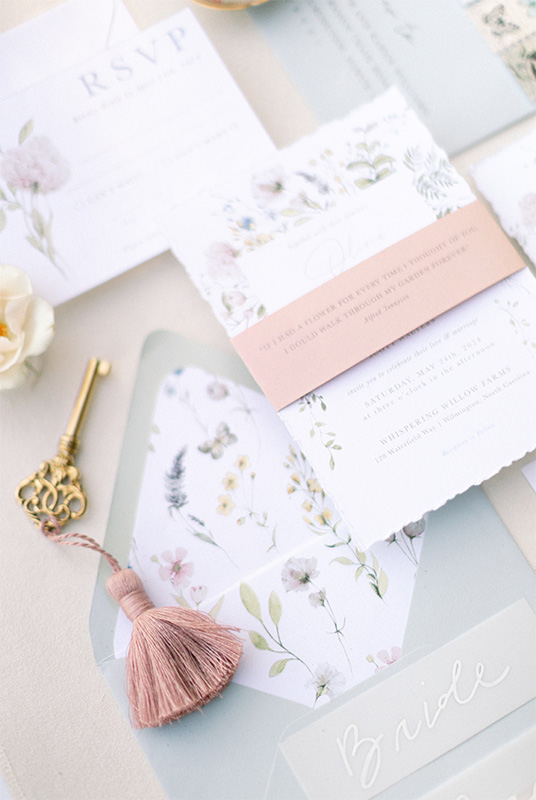 Kari-Ann was an absolute dream to work with! She was so responsive, and turned the work around in 3 weeks for us! Kari-Ann went above and beyond to create everything to bring the look to life that I envisioned for the bride!
Excellent design and customer service, will use again!
I chose Alexis Scott Designs for my July wedding and I couldn't have been more pleased! I really wanted to work with someone directly instead of using one of the many online platforms. Kari-Ann helped create the most gorgeous stationary for us and I literally used her from wedding invitations to all of the wedding day stationary needs until the end with our thank you cards. She tied everything together so beautifully!! She is a local to Wilmington and I love to support small businesses. Thank you SO much!!! I will be using her company in the future for sure.
Alexis-Scott Designs is my go to for all my designing needs! I have placed multiple orders each and every time the work is perfect, always exactly what I'm looking for! Never have to wait long for any of my orders to be designed, price is great, and results are amazing! I don't know what I would do without Kari's creativity and wonderful communication! Highly recommended!!
Our family has moved several times and to several states. When we finally settled back home, hopefully for good, I wanted a special way to let everyone know where we landed! Alexis-Scott Designs created a beautiful postcard for me! I simply told Kari what I was thinking and she came up with a couple of wonderful ideas. Kari came up with a PERFECT look! She made a non-creative person like me feel creative! When friends and family received our card in the mail they raved! It was a great, stylish way to let our friends know our new information!
I cannot put into words how happy I was to find Alexis-Scott Interiors. I have used Kari's services for my daughters 1 year birthday invites, baby shower invites and a signature page for my daughters birthday. Her service was not great, it was exceptional. All I had to do was explain what my vision for what I wanted and within a day I had a final product that was better then I even imagined! Within a week, the final product was on my doorstep! She is beyond creative, friendly, timely and professional. I recommend her to all my friends and family for any of their customized invite requests, or organizing needs. I would never consider using any other company and I love to support small local business!
I have placed 2 orders with Alexis-Scott interiors and with each one I was blown away with the quality of the work and with the excellent communication. I highly recommend them, and will be using them again in the future for sure. Awesome work:) 100% satisfied
Fabulous classic designs!! I highly recommend Alexis Scott Design and can not wait to use their services again and again. I just loved my baby shower invites and looking forward to many more birthday parties and all my special event invitations and annoucements.
Wow! What a great vendor. I had a wonderful experience with Kari-Ann... Incredibly talented, creative, and thoughtful. I will definitely use her services again! She created a custom package for me as I was using a few of her creations so she put them together for me and made it so easy. I asked her for a few special extras as well and she was up for the challenge...I could not be happier! Awesome job!
We were beyond thrilled with the design, quality, and price of Alexis Scott Designs. The prices are very competitive (even with mass online printing companies), but the design/quality of her work far surpasses others we looked at. She was able to take our basic ideas/desires and turn them into amazing products! We used her services (artistic creations) for all of our wedding stationery (invitations, envelopes, menus, programs, place cards, etc.) She was able to keep all of the items cohesive but unique. We loved it, and will definitely reach out to her for future events!!
Frequently Asked Questions
How far in advance should I order wedding invitations?
You can start the process at anytime, but we recommend 3-4 months prior to the wedding with them hitting the mail 6-10 weeks prior to the big day.
When should we send our Save the Dates?
We recommend sending your Save the Dates out 6-8 months prior to your wedding.
How many invitations do I need?
This is a very common misconception. You do not need an invitation for every guest, just for every household. So normally if you are inviting 100 people, you should need around 50-60 invitation suites plus 5-10 extras for keepsakes and anyone that you may have missed.
How long does designing and printing my invitations take?
It really depends on revisions, content, time frame etc. But in generally, the entire process takes around one month, start to finish.
Can you print a design I made myself for me?
As long as its a high resolution PDF, it is not an issue.
What printing methods can we choose from?
At Alexis Scott Designs, we can do digital printing, metallic digital ink, letterpress invitations, embossed invitations, and foiled designs.
What invitation accessories do you have available?
Really anything you can think of, the sky is the limit. I can source ribbon, wax stamps, different colors of wax, tassels, anything, just ask!
We aren't sending Save the Dates - can we order just invitations?
Yes! That is not a problem.
Can you address and ship my invitations out for me?
Yes! That is included in your proposal pricing. I do all the time consuming work, you just sit back and relax.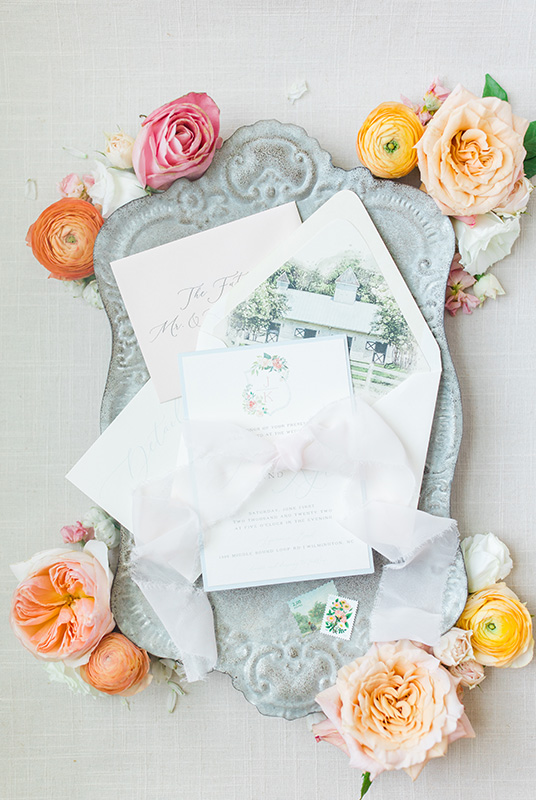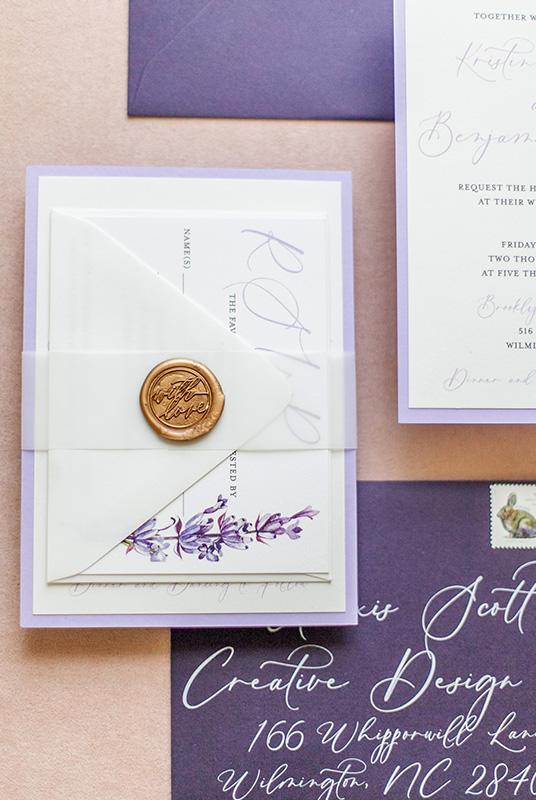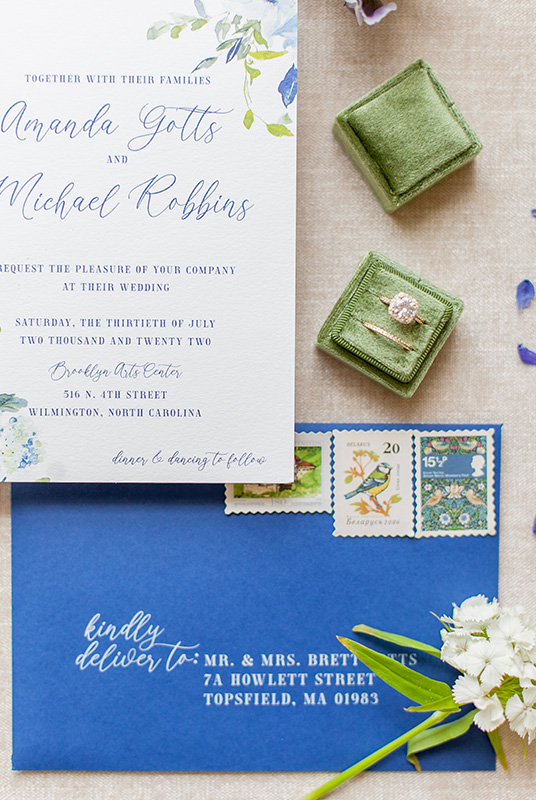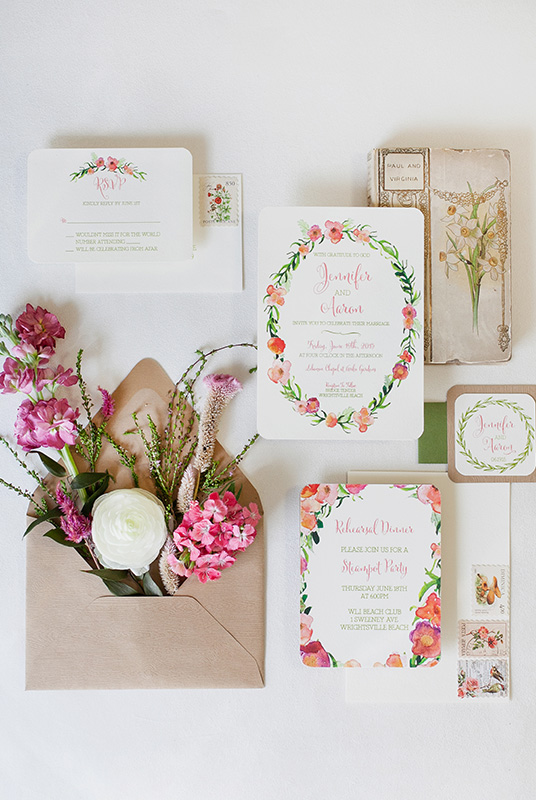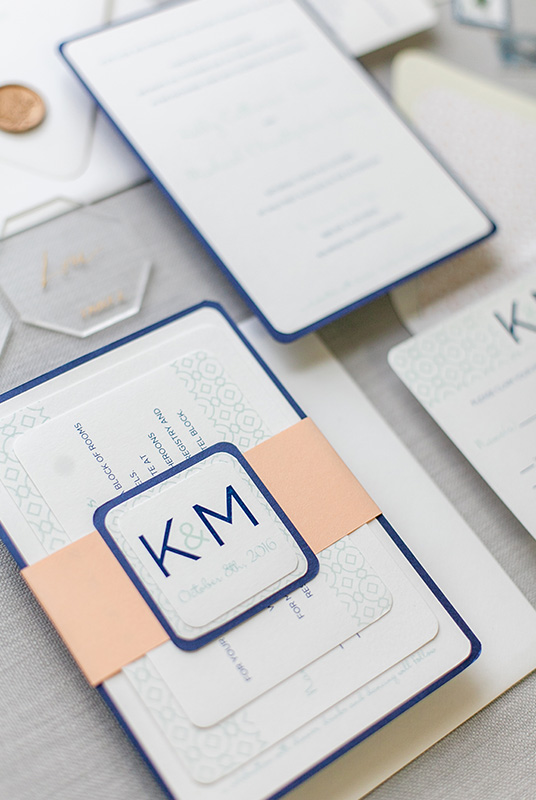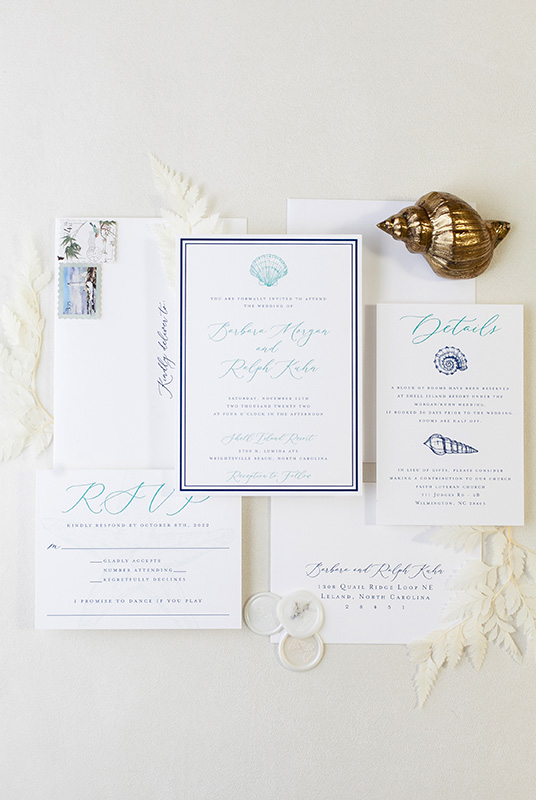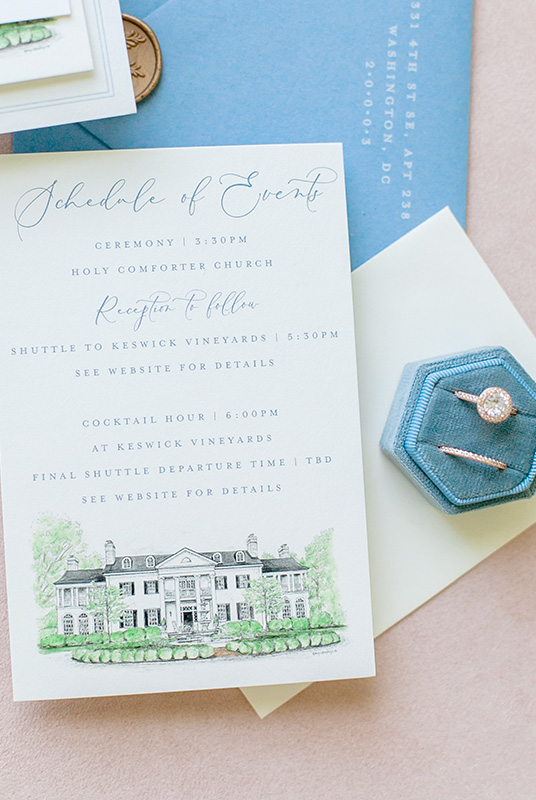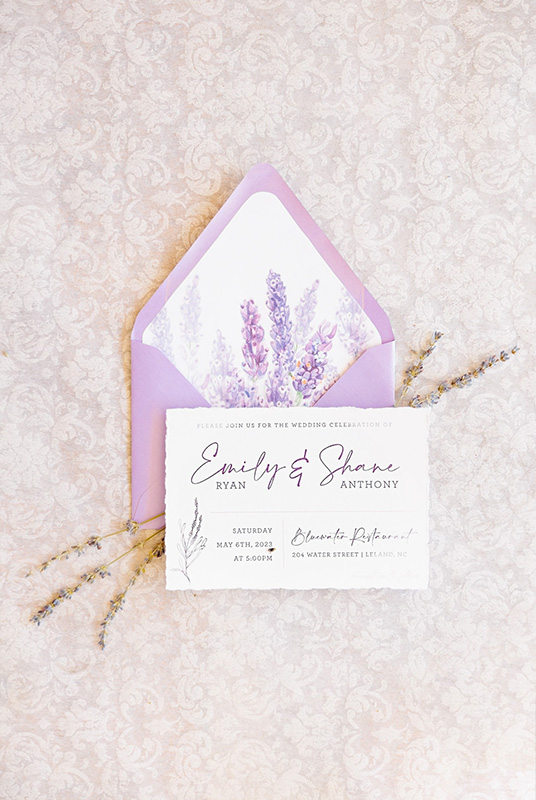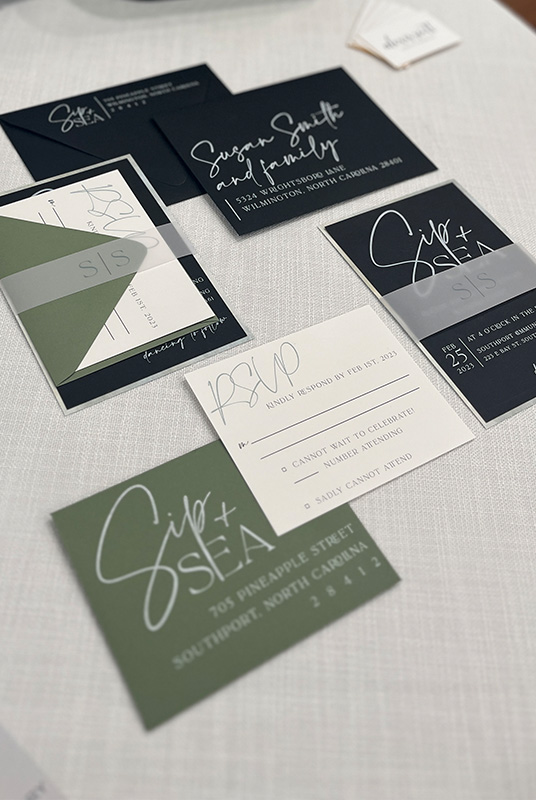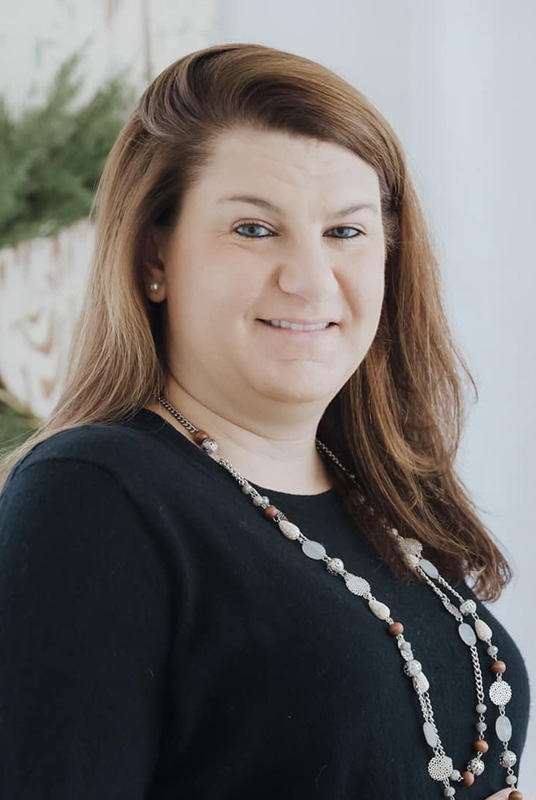 Meet the Designer
Congrats on your engagement and welcome, I'm Kari-Ann! I founded Alexis Scott Designs in 2012 after getting married and designing my own wedding invitations. I now help love stories live on in paper form for couples across the US and internationally. When you work 1:1 with a stationery designer like me, there's so much trust that's involved to allow us to make your vision a reality for such a special and important day in your lives. It's an honor I don't take lightly, and one of my favorite parts of the job. I wouldn't trade it for anything else!
Our invitations looks even better
with your names on them
Inquire about wedding invitation design